Professional Grade – High Performance Material
Our bagged cold patch asphalt material is the perfect way to permanently repair damaged surface areas in all weather conditions. Easily transported, our 50 lb. bags of material are convenient and you may use only the amount needed, resulting in less waste and mess.
HEI-WAY® Professional Grade Asphalt Patching Material is used by utilities, public works, townships, state DOTs, federal agencies, airports, contractors and homeowners to repair and patch utility pipelines, roadways, driveways, parking lots and recreational areas.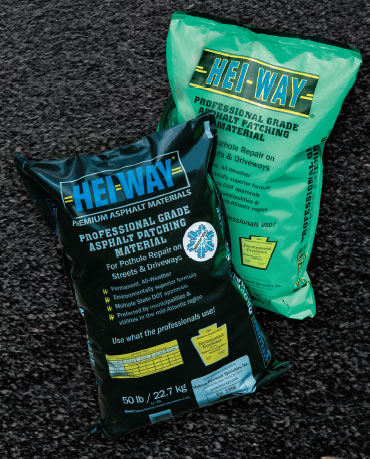 <table class="bagged-materials"><!-- [et_pb_line_break_holder] --> <tbody><!-- [et_pb_line_break_holder] --> <tr><!-- [et_pb_line_break_holder] --> <td>HEI-WAY® Mix Grade</td><!-- [et_pb_line_break_holder] --> <td>Application Temperature</td><!-- [et_pb_line_break_holder] --> </tr><!-- [et_pb_line_break_holder] --> <tr><!-- [et_pb_line_break_holder] --> <td>Summer</td><!-- [et_pb_line_break_holder] --> <td>50° F and above (10° C)</td><!-- [et_pb_line_break_holder] --> </tr><!-- [et_pb_line_break_holder] --> <tr><!-- [et_pb_line_break_holder] --> <td>Winter</td><!-- [et_pb_line_break_holder] --> <td>50° F and below (10° C)</td><!-- [et_pb_line_break_holder] --> </tr><!-- [et_pb_line_break_holder] --> </tbody><!-- [et_pb_line_break_holder] --></table>
Benefits and Features
Consistently outperforms our competitors in strength, durability, performance and laboratory tests
Permanent all-weather repair
High workability in extreme temperatures
Retains strength after freezing and thawing
Professional grade, high performance
No mixing needed, ready to use right out of the bag
Environmentally friendly
Open to traffic immediately
Shelf life of at least three years, save and store unused material
Manufactured in the USA